Departure Restaurant & Lounge
Editor's Pick
• $$$ • Pan-Asian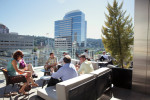 When New York high-end kitchen vet Gregory Gourdet took over the Nines hotel's astro-sleek 15th-floor restaurant in 2010, it was better known for its bridge-and-tunnel singles scene than for its eats. Since then, the gregarious, telegenic chef has turned the dining room into a lively hub for creative, ambitious pan-Asian cuisine, a spot where Oregon's produce, meats, and seafood are transmuted into bold yet comforting dishes that sizzle and pop with the big, bright flavors of chile, lime, and ginger. Visiting the restaurant, with its Vegas-style decks and unparalleled views of the city, is an expensive but giddy-making surprise: it's as if you went into a dressing room to try on a pair of gaudy Ed Hardy jeans and came out clad in an Armani suit.
Last updated: 10/27/2014
Address

525 SW Morrison St
Portland, OR 97204

Phone

503-802-5370

Hours

Mon-Thu, Sun: 4 pm - 12 am
Fri-Sat: 4 pm - 1 am

Website
Please Note: Before making plans, please call ahead with the establishment to verify that this information is still accurate.