Cup & Saucer Cafe: Killingsworth
• $ • American/New American, Breakfast, Sandwiches/Deli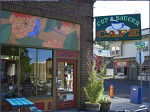 For over two decades, Cup & Saucer has served up diner classics at multiple locations in Portland. The quintessential Portland diner, offering a menu of egg and tofu scrambles, sweet scones, salads, deli sandwiches, and burgers, this homey eatery caters to a just about everyone with huge portions and sustainable ingredients.
Last updated: 10/03/2013
Address

3000 NE Killingsworth St
Portland, OR 97211

Phone

503-287-4427

Hours

Mon-Fri: 8 am-3 pm
Sat-Sun: 8 am-4 pm

Website
Please Note: Before making plans, please call ahead with the establishment to verify that this information is still accurate.