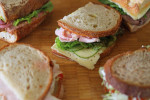 Eric Finley and Paula Markus's meat-and-sandwich haven features a carefully curated list of sammies made with some of the best cured meats around town. "The Italian" is a favorite, stacked high with house-cured ham, spicy coppa, thin disks of mortadella, and salty salami that slide over roasted red peppers and smoky provolone. If you can steer yourself away from the cured meats, "The Frog" is incredible; a melt-in-your-mouth, pork-rich country pâté swirled with bright green slivers of pistachio, all rounded out with pickled red onions on a baguette. More than just a butcher shop or salumeria, Finley and Markus have earned their chops as a veritable sandwich destination.
Last updated: 10/22/2012
Address

735 NW 21st Ave
Portland, OR 97209

Phone

503-288-1901

Hours

Mon-Sat: 9:30 am - 7 pm
Sun: 10 am - 7 pm

Website
Please Note: Before making plans, please call ahead with the establishment to verify that this information is still accurate.