Chef Naoko's Bento Cafe
Editor's Pick
• $$ • Japanese, Vegetarian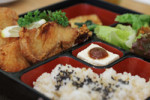 Ohaiyo gozaimasu!! The greeting rings out as you step through the door at this tiny, serene café. You don't often hear the words in Portland, and it's generally a reassuring sign that you are in the right place. Japanese families and in-the-know locals come for Naoko Tamura's Oregon-inspired Japanese comfort foods. Bento is the star of the lunch-only menu: light, healthy, artful, and fashioned with farm-fresh ingredients. The chalkboard overhead reads like a road map of respected Oregon producers. Each lacquered box contains five compartments holding thoughtful bites: sweet omelet, silky tofu, market-fresh greens, rice (white or brown), and a changing main attraction, from lightly fried wild Oregon lingcod to farm-coddled chicken in a tomato braise. If you're still hungry, the miso soup is fantastically perfumed, and the browned strips of pressed, gooey, rice cake "mocheese" are terrific.
Last updated: 01/30/2014
Address

1237 SW Jefferson St
Portland, OR 97201

Phone

503-227-4136

Hours

Tue-Sat: 11:30 am - 3 pm
Wed-Fri: 6 pm - 9:30 pm

Website
Please Note: Before making plans, please call ahead with the establishment to verify that this information is still accurate.