Cedo's Falafel & Gyros
Editor's Pick
• $ • Middle Eastern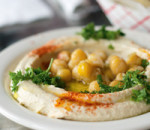 Muffled sighs eke out of a lunch crowd huddled along the slender bar as falafel fanatics attempt to speak, nose deep in fried cumin spice and house-made yogurt. Last February, Cedo's emerged on a busy strip of NE MLK Jr. Boulevard with hummus so creamy you could backstroke through it, and craggy orbs of falafel that could end the Mideast conflict. Chickpea perfectionist and Palestine native Sam Hazza soaks his garbanzo beans overnight, toasts and grinds his coriander by hand, and cultures his own yogurt to create the city's best falafel, its nutty, cumin-dusted fissures doused in a lemony tahini sauce and packed in soft pita. At its core, this is a mom-and-pop shop with the feel of Old-City Jerusalem—and proof that Brunchtown, USA, is wading deeper into serious ethnic territory.
Last updated: 02/19/2013
Address

3901 NE MLK Jr. Blvd
Portland, OR 97212-3054

Phone

503-719-7344

Hours

Mon-Sat: 11:30-8 pm
Sun: 12-6 pm
Please Note: Before making plans, please call ahead with the establishment to verify that this information is still accurate.