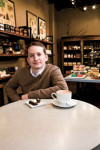 Go ahead and eat it—or more exotically, sip it—but don't say you weren't warned. Because once you've tasted the otherworldly chocolate offerings at Cacao, there's no going back to those emulsifier-laden bars that lurk near checkout counters. Framed by cool blue, green and (appropriately) mocha walls, the expertly curated Cacao offers a mix of decadent treats culled worldwide. The menu includes more than 150 types of bars and handmade confections, from fig-and-fennel chocolates to sea salt-tinged caramels. Behind the counter, three constantly churning machines keep Cacao's heady drinking chocolate in a warm, liquid state. And because the very notion of a "PB&J" confection piques curiosity, sampling is encouraged.
Last updated: 08/21/2012
Address

414 SW 13th Ave
Portland, OR 97205

Phone

503-241-0656

Hours

Mon-Thu: 10 am - 8 pm
Fri-Sat: 10 am - 10 pm
Sun: 11 am - 6 pm

Website
Please Note: Before making plans, please call ahead with the establishment to verify that this information is still accurate.