Bunk Sandwiches
Editor's Pick
• $ • Sandwiches/Deli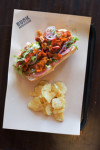 Walk down SE Morrison Street at midday, and when you reach Sixth Avenue, you'll find yourself amid a motley crew of tattooed hipsters, besuited office workers, and tiny creative sprites, each anxiously anticipating a Bunk sandwich. Co-owners Tommy Habetz and Nick Wood create dangerously good culinary experiments between two slices of bread, from salt cod and mashed potatoes with parsley salad to a lusty pork belly bahn mi. No wonder their powerhouse sandwiches are turning up on popular food shows like Diners, Drive-In and Dives and The Best Thing I Ever Ate. A tiny downtown location (211 SW Sixth Ave) offers the same signature, as does spin-off Bunk Bar (1028 SE Water Ave), along with loud (but well-chosen) indie music, an anti-mixology bar, and late-night hours, plus some additional finds, like a BBQ shrimp po'boy, courtesy of Habetz's dream addition—a deep fryer.
Last updated: 02/19/2013
Address

612 SE Morrison St
Portland, OR 97214

Phone

503-477-9515

Hours

Mon-Sun: 8 am-3 pm

Website
Please Note: Before making plans, please call ahead with the establishment to verify that this information is still accurate.