Bowery Bagels
• $ • Coffee/Pastries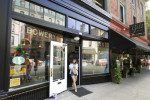 KitchenCru founder Michael Madigan's New York-style bagelry and coffee shop in Old Town serves up the kind of hand-rolled, fermented, and boiled bagels he grew up eating as a boy in Queens. Bowery's bagels have quickly risen to the top of local bakery options, thanks to Madigan's stubborn perfectionism and nostalgic craving for the bold flavors and chewy texture of his childhood nosh. The result? Bagels made with simple, local ingredients (think Shepherd's Grain and Bob's Red Mill flours) in both classic flavors and creative twists. In addition to a full menu of bagels, schmears, bagel sandwiches, soups, and Stumptown espresso drinks, Bowery is also home to CruMarket, a mini retail space offering artisan goods made across the street at KitchenCru. Shoppers will find bags of Jacobsen Salt Co. sea salt, Petunia's Pies and Pastries treats, PieKu pie poppers, Fatdog Mustard and spicy and garlic Fatcat Pretzels, NW Elixers hot sauce, Bubba's Granola, and much more.
Last updated: 08/24/2012
Address

310 NW Broadway
Portland, OR 97209

Phone

503-227-6674

Hours

Mon-Sun: 7 am-2 pm

Website
Please Note: Before making plans, please call ahead with the establishment to verify that this information is still accurate.