Boke Bowl
Editor's Pick
• $$ • Japanese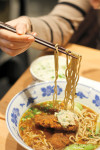 Boke Bowl was born as a pop-up ramen shop. Faster than you can slurp a bowl of handmade noodles, Boke morphed into a brick-and-mortar version that embodies the best of Portland's res- taurant scene—a design-savvy, unpretentious, affordable celebration of the art of eating. Ramen honcho Patrick Fleming is more concerned with quality and creativity than textbook authenticity. But his democratic playbook glimpses the future of dining with artistic choices for carnivores, vegans, and gluten-phobes alike. Nothing quite matches the joyful hedonism of Boke's signa- ture ramen, teeming with pulled pork and fried chicken. But there's plenty here to love: addictive grilled eggplant buns; the joyful, toyful brussels sprouts salad; colorful pickles to roll in gingered rice and seaweed sheets; and pears fried to fruit-leather intensity. Regulars are eating it all, down to the homemade Twinkies. On Thursday nights, Fleming pulls out Korean fried chicken for a spe- cial menu dubbed Boke Bird.
Last updated: 09/05/2012
Address

1028 SE Water Ave
Portland, OR 97214

Phone

503-719-5698

Hours

Mon-Wed: 10:30 am-3 pm
Thu-Sat: 10:30 am-9:30 pm

Website
Please Note: Before making plans, please call ahead with the establishment to verify that this information is still accurate.