Blossoming Lotus
• $$ • vegan, Vegetarian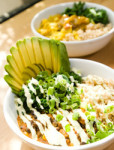 You certainly don't have to prove your breath-of-fire capabilities in order to feast on the refreshingly creative vegetarian fare served in this tiny, wood-adorned café. but everything will taste even better if you've just spent an hour mastering your navasana pose. The point is that everyone—whether in yoga pants or in cargo pants—is welcome to fuel up on such well-executed dishes as the lotus sample plate, a trio of hearty pumpkin seed pâté, hummus, and tempeh salad accompanied by house-made flaxseed crackers, pungent olives, and salted pistachios. The sandwiches— such as the surprisingly rich BBQ tempeh or the roasted vegetable—showcase generously thick slices of soft, homemade spelt bread and incredibly fresh ingredients from lettuce to tomatoes. (As for the soups, perhaps purity was too high a priority—at times they lack salt.) Sure, the expected sprouted wheat and tofu scrambles crop up here, and there's a distinct smell of tamari and nutritional yeast wafting through the air, but every dish is prepared so elegantly that the word "crunchy" won't even come to mind. Blossoming Lotus was featured in B is for Bacon…and Breakfast our March 2009 guide to Portland's best waffles, eggs, biscuits, hash, coffee, pancakes, bagels, omelets, pastries, doughnuts, dim sum, and more.
Last updated: 01/30/2014
Address

1713 NE 15th Ave
Portland, OR 97212

Phone

503-228-0048

Hours

Mon-Sat: 11 am - 4 pm
Mon-Thu, Sun: 5 pm - 9 pm
Fri-Sat: 5 pm - 10 pm
Sun: 9:30 am - 2:30 pm

Website
Please Note: Before making plans, please call ahead with the establishment to verify that this information is still accurate.