Bijou Café
• $$ • American/New American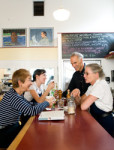 A bona fide institution. This PDX classic continues to pack them in, particularly in the mornings. (Don't be fooled by all the bike helmets and backpacks—this is Power Breakfast Central.) The granola and French omelets (cooked just this side of done) are wonderful ways to start the day. But for heartier fare, diners opt for the oyster-and-potato hash. And for lunch there's everything from tomato soup to cold soba noodles or ham-and-goat-cheese paninis. While the mostly organic fare does come at a price, oodles of old world charm—not to mention VIP people-watching that rivals just about every restaurant in town—virtually guarantee that the Bijou will outlive us all. Don't miss the direct-from grower, politically correct coffee, poured by a superbly attentive waitstaff—no empty cups allowed. The Bijou Café was featured in B is for Bacon…and Breakfast our March 2009 guide to Portland's best waffles, eggs, biscuits, hash, coffee, pancakes, bagels, omelets, pastries, doughnuts, dim sum, and more.
Last updated: 01/30/2014
Address

123 SW Third Ave
Portland, OR 97204

Phone

503-222-3187

Hours

Mon, Wed-Fri: 7 am - 2 pm
Fri: 6 pm - 10 pm
Sat-Sun: 8 am - 2 pm

Website
Please Note: Before making plans, please call ahead with the establishment to verify that this information is still accurate.