Besaw's
• $$ • American/New American, Pacific Northwest, Sandwiches/Deli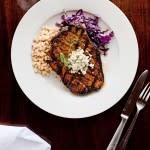 Having opened its door for the first time in 1903, Besaw's has managed to survive the last 100+ years by adapting to its surroundings. Besaw's was originally intended as a beer parlor and gambling hall, which was perfect for its clientelle—a booming industry full of loggers, longshoremen and their families. When prohibition hit, Besaw's began serving food instead of alcohol, and when prohibition was repealed, they were the first bar in Oregon to obtain a liquor license. Today, Besaw's is a local breakfast favourite; post-breakfast, this Northwest 23rd institution dials up the romance when the sun goes down. Dinner service features candle-lit cafe tables perfect for quiet conversation (a far cry from the hustle-and-bustle of the morning rush) and a full menu of Northwest ingredient-driven dishes.
Last updated: 01/25/2013
Address

2301 NW Savier
Portland, OR 97210

Phone

503-228-2619

Hours

Mon-Fri: 7 am - 3 pm
Tue-Sat: 5 pm - 10 pm
Sat-Sun: 8 am - 3 pm

Website
Please Note: Before making plans, please call ahead with the establishment to verify that this information is still accurate.