Bella Faccia Pizzeria
• $ • Pizza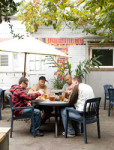 At this cozy, funky NE Alberta Street pizzeria, the New York-style 'za comes in only two sizes: 18-inch pies or very generously portioned slices. But the buzzing clientele is much more diverse, as is the art on the walls, the indie music on the stereo, and the beers on tap (which range from Pabst to Deschutes and Rogue varieties). even the sauces come in different flavors, from basic tomato to garlicky olive oil and herbaceous pesto, and there's a daily vegan pizza that's always top-heavy with four or five vegetables. If you can get through the perennially long line, snatch a seat out back on the packed patio and eavesdrop: The inspired pizza-and-beer-fed conversations at this jumping joint always live up to the neighborhood's eclectic spirit.
Last updated: 01/29/2014
Address

2934 NE Alberta St
Portland, OR 97211

Phone

503-282-0600

Hours

Mon-Sun: 11 am - 10 pm

Website
Please Note: Before making plans, please call ahead with the establishment to verify that this information is still accurate.