Beast
Editor's Pick
• $$$ • French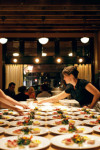 Naomi Pomeroy is a rarity: a girl cook who runs with the meat-worshipping bad boys of the Portland food scene, muscles flexed, elbows flying, but with lace showing underneath. Beast is her tiny, personalized food stage for sumptuous multicourse meals choreographed and assembled in the middle of the room. With no real kitchen, and one big imagination, Pomeroy ships an unexpected parade of elegant potpies, maple-glazed pork bellies, and foie gras bonbons in six-course prix fixe dinners that celebrate French comfort cooking and Oregon farm finds. The four-course brunch is the city's best, embracing candied bacon and a no-brakes attitude in an atmosphere of Otis Redding and pure girl power. Come with friends or meet food-loving strangers at one of two communal tables set with dinner-party charm.
Last updated: 10/22/2012
Address

5425 NE 30th Ave
Portland, OR 97211

Phone

503-841-6968

Hours

Wed-Sat: 5:30 pm - 11 pm
Sun: 9:30 am - 2:30 pm
Sun: 6:30 pm - 9:30 pm

Website
Please Note: Before making plans, please call ahead with the establishment to verify that this information is still accurate.