Beaker & Flask
Editor's Pick
• $$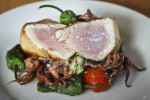 It's rare that a sous chef manages to one-up his former commander. But arguably, that's what newly installed Beaker & Flask honcho Anthony Walton did when his mentor, Ben Bettinger, jumped ship in March 2012 to open Imperial with famed chef Vitaly Paley. Inspired by fresh finds and his Midwest-Southern roots, Walton collages comfort-food classics and contemporary techniques for an impressive reinterpretation of bar food. Make no mistake: Beaker & Flask remains one of the city's craft cocktail destinations. But as word of Walton's upscale cocktail cuisine spreads, the bartenders might need to shake even faster to keep up.
Last updated: 04/08/2013
Address

727 SE Washington St.
Portland, OR 97214

Phone

503-235-8180

Hours

Mon-Sat: 5-11 pm

Website
Please Note: Before making plans, please call ahead with the establishment to verify that this information is still accurate.