Bamboo Sushi
Editor's Pick
• $$$ • American/New American, Japanese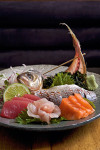 Kristofor Lofgren was ahead of the curve in 2008, when he opened the country's first "certified" sustainable sushi restaurant, leaving the murky waters of red-listing and blue-listing to nonprofit conservation pros. The checklist of sustainable catches informs the nonpreachy menu, an in-depth list of sake love, creative sushi, and playful, visual rolls drawn from the Pacific Coast but casting a wide net to other waters. For a small, independent restaurant, and a chic one at that, Bamboo Sushi is going the distance, contracting with one fisherman to provide its annual haul of Pacific albacore tuna and salmon. Even the house California rolls rise above the mundane, holding 100 percent certified local Dungeness crab while keeping prices on par with most places serving the fake stuff. Adventure is part of the house philosophy, and on any night you might find horse mackerel, Tasmanian ocean trout, or cod sperm, not to mention a darn good burger, fat with high-quality American kobe beef. Is it the best sushi you've eaten? No. But it's fun, fashionable, and thinking ahead, and happy hour is a catch.
Last updated: 02/19/2013
Address

310 SE 28th Ave
Portland, OR 97214

Phone

503-232-5255

Hours

Mon-Sun: 4:30-10 pm

Website
Please Note: Before making plans, please call ahead with the establishment to verify that this information is still accurate.