Ataula
Editor's Pick
• $$ • Mediterranean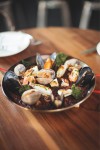 Chef Jose Chesa's brand of tapas in a nutshell: stupid-good but incredibly smart, informed by modernist know-how but as accessible as a Tater Tot. From a guy hiding a small galaxy of Michelin-star experience under his apron come big and little snacks, detailed salads, toasted squid-ink noodles, well-chosen Spanish wines, and a rocking, seafood-laden black rice paella for two, all in a bustling, casual space. Among the finds: bombas, crackling balls of potato mash, spicy beef, and comfort; and deep, dark chocolate "nutella" with toasted Spanish bread for scooping.
Last updated: 10/29/2013
Address

1818 NW 23rd Pl
Portland, OR 97210

Phone

503-894-8904

Hours

Tuesday–Saturday: 4:30-10 pm
Sunday: 10 am-2 pm

Website
Please Note: Before making plans, please call ahead with the establishment to verify that this information is still accurate.