Ataula
Editor's Pick
• $$ • Mediterranean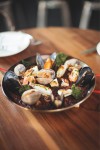 When are potatoes not potatoes? When do humble tubers become golden orbs of unshakable pleasure? When Jose Chesa gets ahold of them and subverts the very heart and crunch of Spain's patatas bravas. Instead of the usual skillet-fried cubes, the Ataula chef conjures Ruffles from a tapas bar in paradise: packets of chorizo zeal and deep-fried joy beneath fierce tomato sauce, parsley oil drips, Catalonian mayo squiggles, and a thousand specks of smoky piment d'espelette. It's signature Chesa: stupid-good but incredibly smart, informed by modernist know-how but as accessible as a tater tot. That's the secret to Ataula (ah-TOWL-la), a tapas house opened last August off of NW Thurman Street. Two years ago, Portland newcomer Chesa couldn't find a cooking gig despite a worldly résumé, eventually test-driving ideas for his own restaurant while juggling Italian standbys at Ciao Vito. Now, at 32, he and wife Cristina are refreshing Spanish eats and neighborhood noshing. It's a place to take food nerds or your folks for something rare: comforting flavors backed by finesse, family secrets, and a deep claw of Barcelona grit from a guy hiding a small galaxy of Michelin star–experience under his apron. Ataula is essential, buzzing with good noise and enough determination to make Damian Lillard blush. There's not a pretentious crumb in the house,and prices are modest enough to support a weekly habit.
Last updated: 10/29/2013
Address

1818 NW 23rd Pl
Portland, OR 97210

Phone

503-894-8904

Hours

Tuesday–Saturday: 4:30-10 pm
Sunday: 10 am-2 pm

Website
Please Note: Before making plans, please call ahead with the establishment to verify that this information is still accurate.