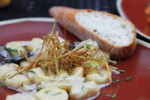 Artigiano is a bright red, truck-size pasta machine, cranking out pounds of the stuff for Division's blossoming "Eat Street." Owner Rachael Grossman flattens sheets of fettuccine, crimps delicate ravioli, and carefully marks tender gnocchi with the telltale tines of a fork, all while delivering serious flavors in sync with the seasons. Chilly months brought out pastas with crispy pork and hearty ragùs. In warmer months, fresh chard, kale, and Meyer lemon tumbled in a bed of fettuccine. The gnocchi, with creamy thumbprints of mashed Yukon gold potato draped in a velvety truffle and crimini mushroom sauce, is a reliable knockout, reaching far beyond food cart expectations.
Last updated: 08/27/2012
Address

3302 SE Division Street
Portland, OR 97202

Phone

503-781-3040

Hours

Mon-Sun: 9 am-5 pm

Website
Please Note: Before making plans, please call ahead with the establishment to verify that this information is still accurate.