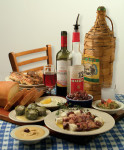 Nestled in the Chinatown district, many Greek food lovers proclaim Alexis to have the most authentic Greek food in Portland. The food is perfectly prepared with proper Greek zest, while a chic, modern ambiance and incredible service make for a pleasant dining experience. At the bar, the scent of licorice wafts from the ouzo being hustled out to glass-clinking roisterers. And like an Old Country taverna, the room's working-class dignity catches fire as a belly dancer appears, heralded by much drumming and clapping. Opa!
Last updated: 10/17/2012
Address

215 W Burnside
Portland, OR 97209

Phone

503-224-8577

Hours

Mon-Thu: 11:30 am-2 pm, 5-10 pm
Fri- Sat: 11:30 am-2 pm, 5-11 pm
Closed Sun

Website
Please Note: Before making plans, please call ahead with the establishment to verify that this information is still accurate.