Alberta Street Pub
• $$ • sandwiches, American/New American, Pub/Brewery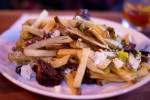 This is about as good as pub food gets, with lowbrow bites fueled by farm-fresh seasonality and East Coast sandwich craft. Under the banner "A.S.P. Re-Established 2013," the longtime dark den is completely transformed, with paneled booths in front, a beautifully engineered music venue for neighborhood concerts around the corner, and a wood-covered, 100-seat patio that wraps around the building's south and west sides. The food has changed, too—dramatically. A fried chickpea number with carrot-radish slaw and lemon aioli, an unimpeachable meatball hero, and a burger so good it warranted its own "Burgatroyd" food cart (now under new ownership). The reimagined pub food comes in the form of "dirty fries" littered with garlic, hunks of wine-braised lamb, feta, pepperoncini, and bright plucks of preserved lemon. The requisite fish and chips throw a flavorful hat in the ring for best in the city, deep-fried in an Occidental Hefeweizen batter, the whole fillets of Alaskan cod steamed to their moist, gravity-defying apex.
Last updated: 08/30/2013
Address

1036 NE Alberta St
Portland, OR 97211

Phone

503-284-7665

Hours

Daily: 3 pm-2 am

Website
Please Note: Before making plans, please call ahead with the establishment to verify that this information is still accurate.