Interurban
• $$ • American/New American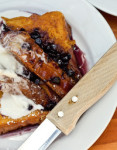 This summer, Interurban emerged as a dark horse in Portland's brunch race, quietly wowing small crowds on a latticed deck each weekend between 10 am and 2 pm. The short, simple menu, nearly half of it populated with cocktails, makes bleary-eyed decisions easy. A layered arrangement of spiced polenta, crispy speck, and over-easy eggs is served in a cast-iron skillet, along with a mouthwatering waft of the truffled provolone hidden within. The Cowboy Rancheros is a welcome study in texture with a stoner twist—a munch fest of eggs, cheese, chili, avocado salad, and Frito curls riding atop a crisped tortilla. The salted caramel French toast is the stuff of plate-licking daydreams, caramelized to golden perfection and dolloped with whipped cream and blueberry-maple compote. Even if sun-dappled mornings on the back deck are a rarity in this region, brunch inside the cozy, timbered saloon is sure to brighten your day.
Last updated: 10/15/2012
Address

4057 N Mississippi St
Portland, OR 97227

Phone

503-284-6669

Hours

Mon-Fri: 4 pm-2:30 am
Sat-Sun: 10 am-2:30 am

Website
Please Note: Before making plans, please call ahead with the establishment to verify that this information is still accurate.