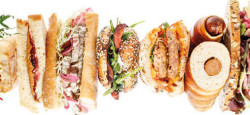 Here on Eat Beat, associate food editor and crack recipe detective Benjamin Tepler is joined by Portland Monthly's insatiable food team: digital editor and gastrophile Allison Jones; restaurant critic Karen Brooks, and food editor/professional glutton Kelly Clarke. Join them as they dish on food news, chew over new restaurants, and sniff out the best bites in the city. Email the editors
Sign up for Portland Monthly's weekly Eat Beat newsletter for updates on the hottest new restaurants, food news, and top chefs.
Follow the team on Twitter, and feel free to ask for local restaurant, food cart, or bar recommendations!