Food and Drink Festivals
Spring Spirits Guide
Spring is overflowing with festivities under glass.
By
Published Thursday, March 29, 2012 at 3:03pm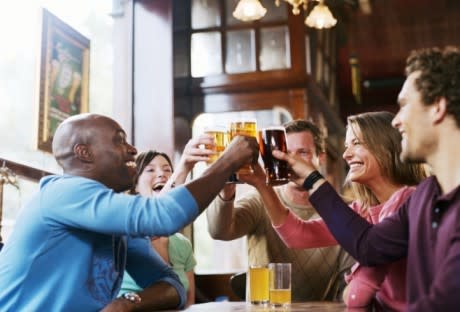 It may be gray again tomorrow, but an annual rite of spring approaches: festival season. Spring brings all sorts of spirit soirees, new releases, and garden parties that seek to awaken our senses and twitter-pate the palate with the siren song of craft beer, crisp wine, and rare artisan alcohol paired with culinary delights, to help us shake off the Seasonal Affective Disorder.
Even if it's still a touch stormy out, tonight you may feed your need for barbecue at North45 Pub for another installment of their Brewhog blast, a weekly event where you can still enjoy a a mess of ribs hot off the grill inside a tented heated patio, and swille $3 pints from a guest brewer. For the finale, the Brewhog Blowout on April 14, all of the 21 participants convene with their craft brews, including Captured by Porches, Amnesia, Lagunitas, Mad River, and Migration Brewing. (517 NW 21st Ave)
Upright Brewing will also be at the Brewhog Blowout, but first they celebrate their 3rd Anniversary, Mar 30, with a shindig sharing all of their superb, full-bodied beers, including the release of a limited bottling run of Blend Love, a floral, peachy, wheat ale blended with a rich, raspberry laden rye ale that is ideal for the season. (240 N. Broadway)
Maybe one of you likes beer and the other is a wine snob, or maybe you both dig beer and wine. Have a fling with the Northwest's best brewers and vintners at the annual Spring Beer and Wine Festival, which features over 30 breweries passing out samples of their finest suds, and two-dozen local wineries pouring pinots. Foodies can get schooled by the pros and then eat the homework at the Chef's Stage, or take in some drink-appropriate tunes while a handful of local distillers mix it up at the Hip Sips lounge. There's also a tour de cheese and chocolate, which in past years has been known to include the appearance of Zombie Easter Bunnies. Admission is free for the first 1000 visitors each day.
(Oregon Convention Center, 777 NE MLK Jr. Blvd)
With the boom of Izakayas and the only American owned Sake Brewery producing out of Forest Grove, Portland welcomes back SakeFest PDX, the only event in the region dedicated to the education and enjoyment of this fresh, ancient beverage crafted from finely polished rice. Brush up on your Japanese while sipping from over 80 varieties of local and international sake, plum wine, and Japanese beer, and expect some fresh spring-time sake-tini's at the free after party. The all-natural beverage is so much more than a sushi sipper; fine sakes are chilled and versatile with cheeses, chocolates, and a variety of cuisines. More than 15 prominent chefs from local restaurants such as Park Kitchen, Biwa, and Wildwood are on board for pairings. Kanpai! (Governor Hotel, 614 SW 11th Ave)
Over 60 regional beer barons and aspiring homebrewers will compete at the Cheers for Belgian Beers festival. Each brewer takes this year's preselected yeast strain, and then does their own thing to create a unique version of Belgian inspired deliciousness. You will help to judge the best brews at Metalcraft Fabriction, a funky, industrial space that specializes in brew tanks and has enough room for the masses to enjoy plenty of elbow room. (4602 NE 31st Ave)
For a scenic Spring Break road-trip, consider a getaway to The Oregon Garden Brewfest in Silverton. Stroll through the garden's waterfalls and ponds, then step inside to enjoy fountains of beer from some 40 Northwest brewers, in tune to a soundtrack of live music from the likes of Blitzen Trapper, The Ty Curtis Band, and Weinland. The event also features a homebrewers competition, tasting and pairing classes, and as a fundraiser for the Oregon Garden, a Brewers Dinner will be held on Brewfest Eve in which ticket holders can belly up to an intimate six-course dinner paired with beer and insights from six of the festivals most prominent brewmasters. (879 W Main St, Silverton)
If something a little stronger suits you, Portland will be hosting the largest collection of artisan spirits in the country for this year's T.O.A.S.T. (The Oregon Artisan Spirits Tasting). From absinthe to whisky, more than 50 local, national, and international artisan producers will offer selections from virtually every spirit category. Sip in style beneath the angled windows of the World Trade Center's Sky Bridge Terrace, experience them in craft cocktail recipes that seasoned bartenders will share with you, and, thanks to recent legislation, it is now permissible to purchase your favorite fifths to take home via the Bottle Shop. (121 SW Salmon St)