Cover Story
Eat Outside
Your guide to dining in the sunshine.
By
Published Friday, July 22, 2011 at 9:07am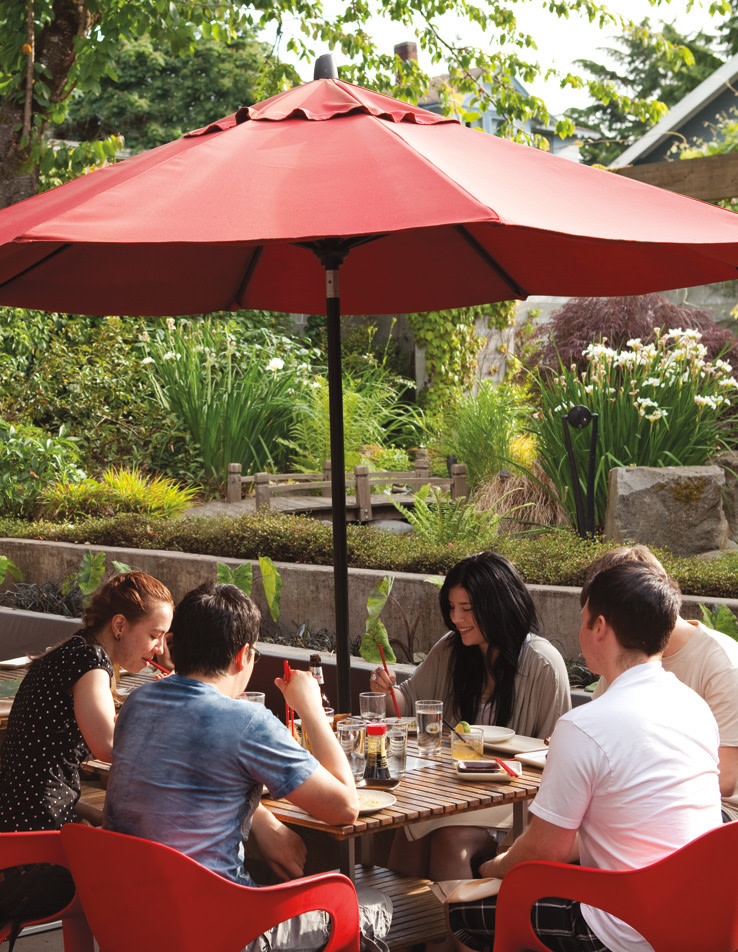 AS A CITY with limited ray-baked days, we hold certain culinary truths to be self-evident. Specifically, that fresh air makes everything taste better. With that in mind, we scoured Portland in search of tasty places with thoughtful outdoor spaces as complementary to your meal as a fine, palate-pleasing wine. In other words: Places that put more effort into their outside environs than a few wobbly tables sprinkled along the sidewalk. And we found them. From front patios with fire pits to backyard gardens ripe for growing romance over brunch, Portland's alfresco menu offers something for everyone. As our heat-soaked summer days slowly slide toward fall, your only job: Eat. It. Up.

$$ 32
711 NE Dekum St; 503-954-1702
firehousepdx.com
An old fire station makes an unlikely Eden, but Firehouse's garden of herbs, veggies, and fruit feels like paradise on a hot evening. Chewy, uncut wood-fired pizzas come in four seasonal varieties, flanked by sprightly small plates and hearty oven-roasted mains. The restored building's red bricks take on a super-real glow as the sun sinks—an effect only enhanced by well-crafted cocktails. —Zach Dundas
$ 145 H ^
600 E Burnside St; 503-236-4536
rontoms.net
While Rontoms's interior is a bastion of mid-20th-century mod, the angular wood roof covering its expansive back patio is pure 21st-century timber chic. Toss in a fire pit, outdoor Ping-Pong, planters brimming with bamboo, and a menu that features local handmade ice cream from Fifty Licks, and you've got one of the coolest outdoor dining spaces in town. —KC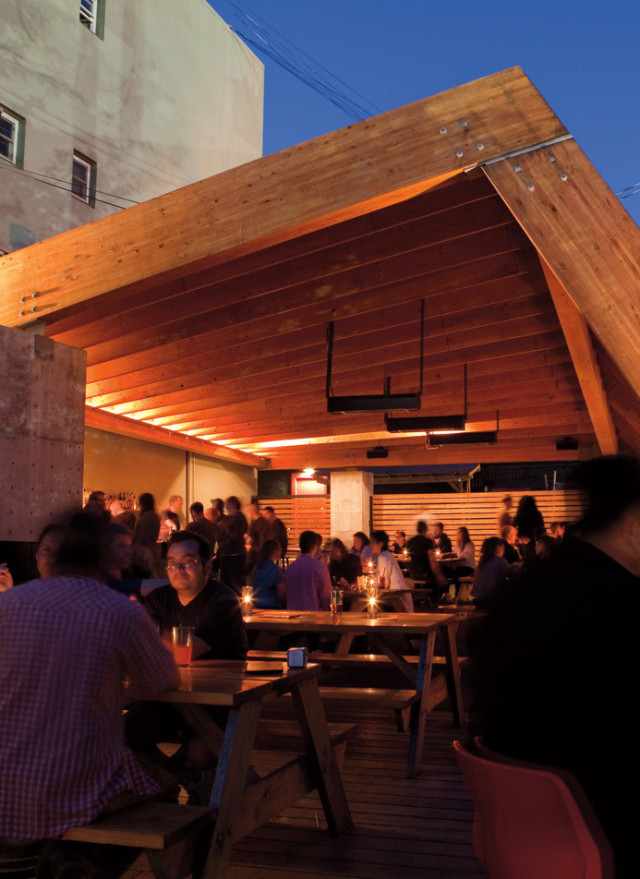 $$$ 8 H ^
1204 NW 21st Ave; 503-243-2403;
paleysplace.net
Perennial favorite Paley's elevates front-porch sitting (and eating) to a whole other level with four tables on the converted Victorian's column-lined stoop. Savor the quaint street scene, citrus-infused Paley's Lemon Drop in hand, along with any one of the garden-fresh salads (we like George's Gathered Greens, simply dressed with lemon and extra-virgin olive oil) or main plates, like line-caught Columbia River salmon, from Vitaly Paley's flawless Northwest repertoire. —Ben Tepler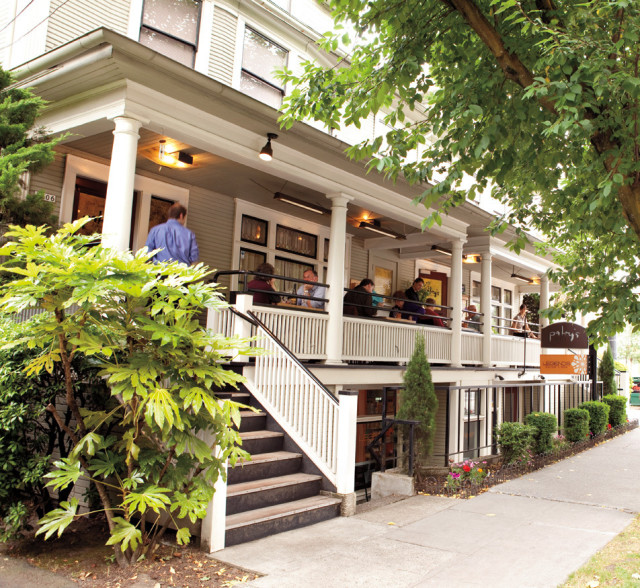 $$ 80 H ^
3348 SE Belmont St; 503-477-7682;
circa33bar.com
Neatly tucked into SE Belmont Street's brick storefronts, Circa 33's newly opened alleyway space presents a welcome alternative to the neighborhood's other, emission-laced sidewalk sitting options. The 10-month-old bar has transformed the narrow corridor adjacent to its whiskey-lovin', comfort-food-focused restaurant into a decidedly intimate off-street area with a sequence of small picnic tables, hanging pots spilling bright flowers, and heat lamps to zap those summer cold snaps. —Rachel Ritchie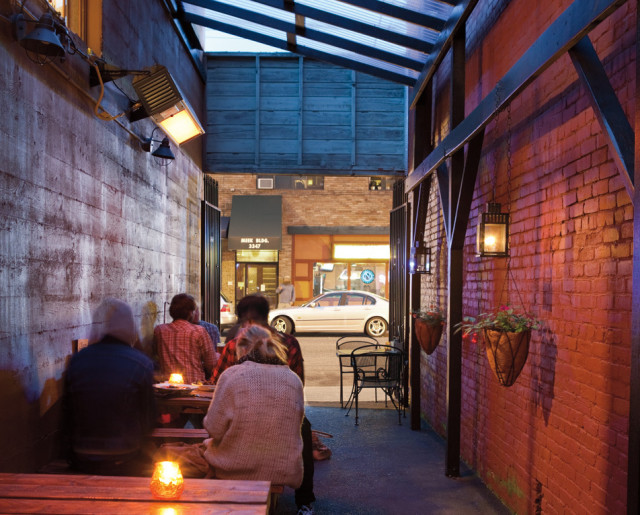 $ 80 ^
8031 NW Skyline Blvd; 503-286-4788

Barbecuing on the big grill at this rustic tavern deep in the West Hills requires some forethought. After you make a reservation, it's BYO-everything: food, charcoal, plates, utensils, condiments. Skyline does, however, supply the icy microbrews, backyard horseshoe pits, a battered Ping-Pong table, and a westward view that stretches almost to the Pacific. —ZD
$$ 50


5507 NE 30th Ave; 503-287-7555
autenticaportland.com
Arching fronds of exotic plants, wide paddles of freckled cactus, and walls painted with vivid swatches of purple, yellow, and blue decorate Autentica's back patio. Fenced in behind a busy Northeast Portland corner but wide open to the sky, this bright, festive nook is the perfect spot for sipping a margarita and savoring Mexican ceviche and tostadas in dappled sunshine. —RR
$$$ 25 H ^
250 NW 13th Ave; 503-226-3394
bluehouronline.com
Oyster shooters, succulent bacon-crowned burgers, and some of the city's best people watching all come cheap at dusk on Bluehour's loading dock turned seating area, when the Northwest-inspired menu hits happy hour prices. From your front-row sunset seat, listen to the click-clack of well-heeled Portlanders echoing off of NW 13th Avenue's cobblestones and sip your ginger-tinged Moscow Mule while the setting sun draws a shadowy curtain over the city. But get here early: the cool kids fill the limited seating fast. —RR
$$$ 90 H ^
2601 NW Vaughn St; 503-228-1250
meriwethersnw.com
With its heated pergola, spacious gazebo, and glowing fire pit, Meriwether's has long been Portland's preeminent not-so-secret garden. Once inside the courtyard, liberally laced with fragrant hydrangeas and roses, you might wonder if you've accidentally wandered into Frances Hodgson Burnett's 20th-century England. But a quick perusal of the menu drawn from the restaurant's own five-acre West Hills farm will bring you right back home. —RR
$ 40 H ^
2338 NE Alberta St; 503-208-3483
cruzroom.com
Last year, a pair of engineers moved into what had been a mediocre breakfast spot and turned their love for tacos and cocktails into a funky fusion of flavors. Exhibit A: the Mac Taco, fried pickles, applewood bacon, special-sauce slaw, cheddar cheese, and onions on a corn tortilla. This year, Octavio Cruz-Uribe and Guy Barnes Jr. transformed the streetside patio into an oasis of urban cool befitting Alberta, hacking an enormous rectangular hunk out of the tall wood walls to create a brick-floored, tricked-out patio complete with Japanese maples, overgrown bonsai, fancy fire pits, and a graffiti-fied mural on the west wall. Of course. —KC
$$ 25 H ^
5411 NE 30th Ave; 503-450-0893;
yakuzalounge.com
Portland's renowned izakaya (Japanese pub) Yakuza takes the party outside with its tiered back patio, artfully landscaped with pretty pebbles, ferns, dinosaur plants, and Japanese maples. Come for the incredible selection of sushi and sakes (17), or the belly-busting burger. Stay for the backyard hot tub, which is reservable for private parties. —KC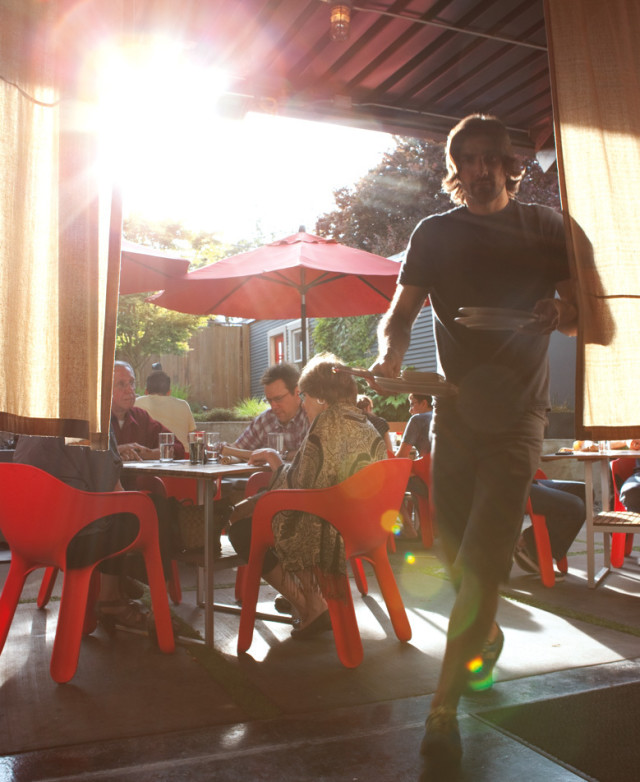 $$ 49 H ^
517 NW 21st Ave; 503-248-6317
north45pub.com
Encased by wooden fences, this massive back patio makes it possible to imagine you're anywhere in the world. The large selection of Belgian beers suggests Europe, while the mussel-loving menu whispers New England. But the fully stocked outdoor bar—so you don't have to miss a moment of those precious rays—is purely Portland. —MP
$$ 93 H ^
204 SE Oak St; 503-232-8355;
producerowcafe.com
Buffered from city grit by cedar walls, Produce Row's back patio creates a private world of whiskey, beer, and upscale pub fare amid industrial Southeast. Planters, candlelight, and tables (some fashioned from reclaimed bowling lanes) fill the 1,400-square-foot space. Cover yours with a pastrami and gruyère sammy; then lean back, belly full, and wait for classic movies to fill the roll-down movie screen (on Wednesday nights). —RR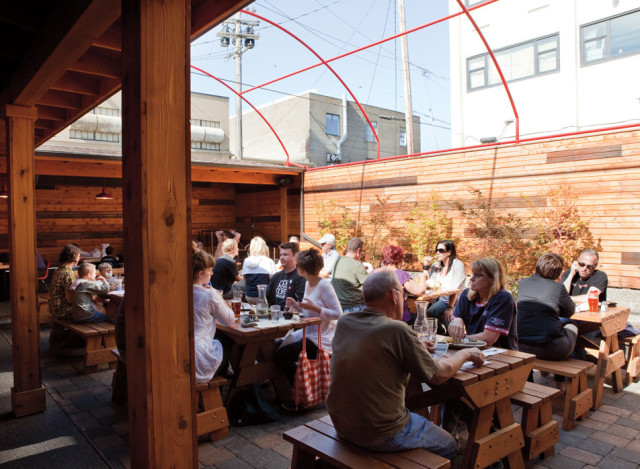 $$ 50 H
830 N Shaver St; 503-460-3333
equinoxrestaurantpdx.com
Stationed off N Mississippi Avenue, Equinox's huge, flagstone patio and ample umbrellas offer fine refuge from the stylish street's heavy foot traffic and the August sun. Between the cute courtyard tangled with Italian cypress and a huge madrone tree, and a globally inspired menu that includes everything from duck confit sliders to wild mushroom wontons, Equinox guarantees a celestial experience more than just twice a year. —BT
$$ 44 H ^
2811 NE Glisan St; 503-233-0511
pambiche.com
Busy NE Glisan Street isn't the most glamorous outdoor environs, but Pambiche has created a colorful little slice of Havana, fittingly in one of the city's too-few arcade-covered sidewalks. Besides, with exquisitely crafted Cuban food like beef hash empanadas and smoked ham croquetas (all for under $15), and one of the city's most revered dessert menus, you won't be looking at anything other than your plate. —KC
$ 40 ^
877 SW Taylor St (Director Park): 503-233-3663;
violettapdx.com
Housed in a very un-burger-joint-like glass buve, this former food cart's burgers are a Director park lunch crowd favorite: a half pound of grass-fed Highland Oak beef topped with Carlton Farms' bacon on a Grand Central bun, with lettuce, tomatoes, onions, and cheese from Portland farms. Plant yourself by the fountain, and soak up some rays while you dig in. Just wipe the fixins off your face before you leave (but not the smile). -MP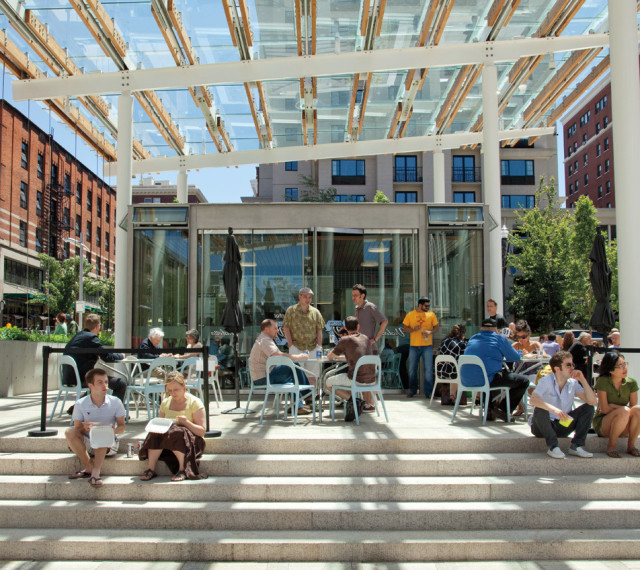 $ 45 H ^
1927 SW Jefferson St; 503-228-7010
goosehollowinn.com
During his tenure as Portland's mayor from 1985 to 1992, the Goose's first owner, Bud Clark, could often be found here washing down a long day at City hall. Even now, hidden behind a grove of trees, the classic spot's tranquility, and large, sun-soaked wraparound porch affords a prime place for you to soothe your own municipal woes. Order a pitcher of IPA and the famous "best reuben on the planet," and dream of how you'd rule Portland. -MP
$$ 80 ^
8145 SE 82nd Ave.; 503-358-7873
cartlandia.com
Cart "pods" may be last year's revolution, but this cluster, which caters to cyclist plying the Springwater Corridor and motorist refugees from 82nd, could become this year's most happening "street" scene. A recent visit found a half-dozen carts, withmore promised by summer's height. The standout: Cascade Burger, where a self-professed lifelong vegetarian (!) grills an excellent half-pound of beef with superb fries and house-made ketchup. A trailer loaded with a big-screen TV also makes for fine Timbers viewing. -ZD
$ 28
8105 SE Seventh Ave; 503-233-4410
muddyrudderpdx.com
The conspicuously red two-story house in Sellwood's lazy downtown feels more residential than commercial: picnic tables in the small backyard are surrounded by unpainted fences and shrub, a tone walkway, and the bustle of families. So you'll feel no guilt letting your kids (or dog) run free while you nosh on one of Muddy's signature organic flour pizzas with pecorino cheese – pies that rival some of the best of Portland's pizza pantheon. -MP
$ 55 H
4627 NE Fremont St.; 503-445-6646
nohos.com
Slip away to the islands for an afternoon at this casual Northwest micro-chain, which boast two cafés in Portland and one in Medford. The large, tikied-out, palm-tree-appointed back patio at the NE Fremont location invites long lunches of Hawaiian favorites like kahlua pig and loco moco (a fried egg and hamburger patty on a bed of rice, smothered with brown gravy). A fire pit tucked in one corner awaits in case you want to let the day completely get away from you. -KC
$ 90 H ^
4237 N Mississippi Ave.; 503-954-2674
prostportland.com
From the servers' accents to the beer steins and wood paneling, North Portland's always-crowded beer garden ranks as the most authentic (and fun) slice of Bavaria this side of the Alps. When the sun is shining, nix the boiled bratwurst and canned sauerkraut and opt for the food carts that ring the deck. Meatball heros at Garden State, a vegan bowl of tofu and veggies from the Native Bowl, and gourmet burgers at the newly opened Burgatroyd make excellent, if somewhat untraditional, companions for your Helles. -MP
$ 76


6031 SE Stark St.; 503-233-8242
calderapublichouse.com
Set on the volcanic slopes of Mount Tabor, this neighborhood pub holds what s quite possibly one of the coziest, homiest backyard spaces in all of Portland. Twinkling white lights and Japanese lanterns line the fenced-in, fern lade patio. It'll take some time to choose between the menu's six organic burger options and the more creative fare (bourbon-soaked brie, anyone?). But the toughest decision? When to tear yourself away from the tranquil scene. -KC
---