FOODIE FREEBIES
Portland Dining Month Giveaway
Eat Beat's giving away five Dining Month dinners to our loyal readers, just because we like you.
By
Published Monday, June 13, 2011 at 12:06pm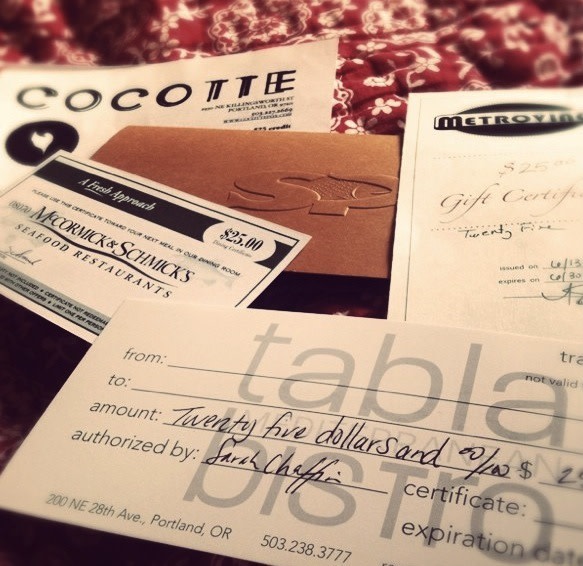 Here's the deal: As you should know, June is Portland Dining Month, when sixty Portland restaurants offer three courses for just $25. That's a killer deal at most of the participating restaurants, but for those of you holding out for a better one, here it is: Eat Beat snagged five $25 Dining Month gift certificates to give away to our readers.
Entering to win couldn't be easier – just sign up for our weekly Eat Beat newsletter, then shoot me an email over at ajones@portlandmonthlymag.com with "Dining Month" in the subject line. You have until 5 pm on Friday, June 17th to enter. In the meantime, check out the great meals we're giving away at Cocotte, Metrovino, Tabla, Southpark, and McCormick & Schmick's:
Cocotte 2930 NE Killingsworth St.
First course: Charcuterie Plate with chicken rillette, chicken liver mousse, and housemade accoutrements
Second Course: Fennel Salad with grapefruit, Castelvetrano olives, chevre, Marcona almonds, and green peppercorn dressing
Third Course: Pasta Niçoise with housemade black pepper vermicelli pasta, tomato-niçoise coulis, and local seafood
Metrovino 1139 NW 11th Avenue
First Course: Chilled Spring Pea Vichyssoise with warmed morel crostini, new potato chips, and fresh mozzarella
Second Course: Grilled Louisiana Gulf Prawns with braised pork belly, tuscan white beans and favas, swiss chard, and herb aïoli
Third Course: Meyer Lemon Panna Cotta with orange supremes, pistachio florentine, hibiscus jus, and shiso or Chocolate Espresso Cake with rum mascarpone mousse, and warm ganache
Tabla Mediterranean Bistro 200 NE 28th Ave.
First Course: Farmer's Market Lettuces with organic yogurt dressing, radish, and Viridian Farms' strawberries
Second Course: Pappardelle with pork sugo, pecorino romano
Third Course: Forbidden Rice Risotto with asparagus, asiago, and aged balsamic
Southpark Seafood Grill and Wine Bar 901 SW Salmon St.
First Course: Organic Greens with walnuts, and Chaubier and Sherry vinaigrette served with house bread
Second Course: Bouillabaisse with Fresh Fish, Clams and Mussels – or – Prosciutto Wrapped Trout with warm potato salad, green onion pesto and baby spinach
Third Course: Polenta Scone with strawberry rhubarb compote with sweet ricotta and lemon curd
McCormick & Schmick's Harborside 0309 SW Montgomery
First Course: Seafood & Roasted Corn Chowder – or – Spinach Salad – or – Mixed Greens with White Balsamic Vinaigrette
Second Course: Quinoa Crusted Tombo Tuna with Coconut Red Curry Sauce – or – Grilled Steelhead with Butternut Squash and Sweet Potato Hash and Fennel Beurre Blanc – or – Spicy Shrimp Linguini with Sundried Tomatoes, Spicy Pomodoro Sauce, Fresh Basil and Parmesan Cheese – or – Harborside Seafood Stew with Dungeness Crab, Prawns, Fresh Fish, Clams and Mussels
Third Course: Traditional Crème Brulee with Crisp Sugar Crust, Fresh Raspberries – or – Red Wine Chocolate Pot de Crème with Freshly Whipped Cream – or – Peanut Butter Cheesecake with Chocolate Drizzle, Fresh Whipped Cream