huh
Krazy Karl
Oh Mr. Lagerfeld, how do you do what you do?
By
Published Friday, May 6, 2011 at 9:05am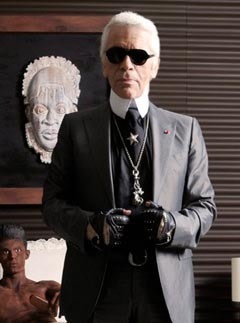 In an idea stolen from the brain of Augustus Gloop from Willy Wonka and the Chocolate Factory, Karl Lagerfeld has created an entire hotel suite made from chocolate. Ummm what, you ask (as any normal human would)? The man behind Chanel wanted something special to celebrate the launch of Magnum brand chocolate. My idea was to flirt with a mix of modern and traditional French influences to create something remarkable,' says Lagerfeld. 'It has been an absolute pleasure to design. That cocoa sculpture of Baptise Giabiconi makes me think we should plug the word creepy somewhere in there.