Free Stuff
Shop Talk Giveaway!
Get organized with these little gems from Ste. Maine.
By
Published Monday, April 4, 2011 at 2:04pm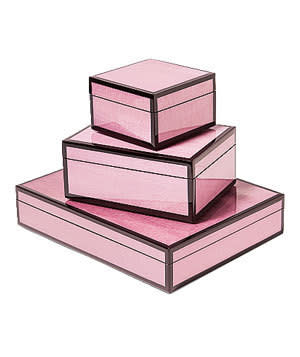 The lovely ladies over at Ste. Maine are sponsoring a Shop Talk giveaway! Win two Pacific Connection pink lacquer boxes to keep your most treasured items organized in the classiest of ways. These cute containers have been rumbling up some press with name drops in the likes of Elle Décor and Real Simple. To win a set of two you have but one simple assignment: Post in the comments section what you would do with the boxes between now and next Monday and we'll pick the winner based on the best comment. It's so easy! Give it a whirl….
SaintMaine.com
Ste. Maine, 7015 SE Milwaukie Ave.
Portland
503.232.1880
Prize notes:
*Color of actual prize boxes are pink with white accent, not brown as pictured.
*Two boxes measure two boxes measuring 5 × 5 × 3 and 8 × 6 × 3 ½
*Retail value of $146.00