A stitch in time
Portland Sewing School
Get your sew on with Portland Sewing and their altruistic ways.
By
Published Wednesday, September 22, 2010 at 12:09pm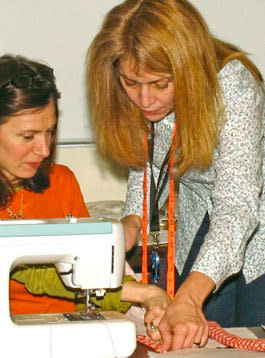 In Portland, land of the independent designer, we believe it's never too early to whip out that needle and start making it work. If you want a full bachelor's degree in apparel design or fashion marketing you have The Art Institute as your local option, but if you aren't looking to pick up a BFA, Portland Sewing may be your choice. A fashion design and sewing school in Hollywood, they just announced the winner of their first annual $1,000 scholarship. The contest was open to full-time students in Portland area high schools who had a GPA of 2.5 or more. Each contestant created an original apparel design idea with sketches, interviews of influential people and an essay on fashion design. St. Mary's Academy student, Stephanie Linn, was chosen and plans to use the classes to create a portfolio to get into the design school of her dreams. But you don't need to win a scholarship or be a teen to sign up to learn to sew. Classes form on a continuing basis, for more information check with Portland Sewing.
www.portlandsewing.com
2111 NE 43rd, Portland OR 97213
In the heart of the Hollywood District