Holiday Cheer
Holiday Hawthorne Street Fest
Tonight is the time to stroll Hawthorne.
By
Published Thursday, December 9, 2010 at 2:12pm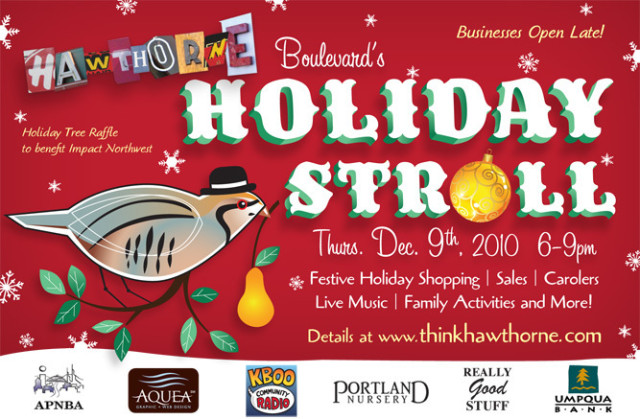 It may be raining cats and dogs, but don't let that stop you from heading out this evening to the Hawthorne Holiday Stroll. There will be heated tents, hot cocoa, carolers, raffles, holiday spirit, and maybe an elf sighting. Many of Hawthorne's 100+ stores are taking part in sales, as well as donating proceeds to Impact NW. A few of our favorites joining in are Imelda's Shoes and Louie's Shoes for Men, Dosha Salon Spa, The Monkey King, Gold Dust Meridian, Crossroads Trading Company, Hawthorne Happenings, Mink and Local 35. The Bagdad is even showing a free Christmas movie for the kiddos at 6pm. Don't let the rainy day turn you into a Grinch, go have some fun.
Holiday Hawthorne Street Festival
Tonight on HAWTHORNE @ 36th Street