Get Pretty
Betsy & Iya Bash
The opening night party of a talented lobe decorator.
By
Published Friday, November 19, 2010 at 10:11am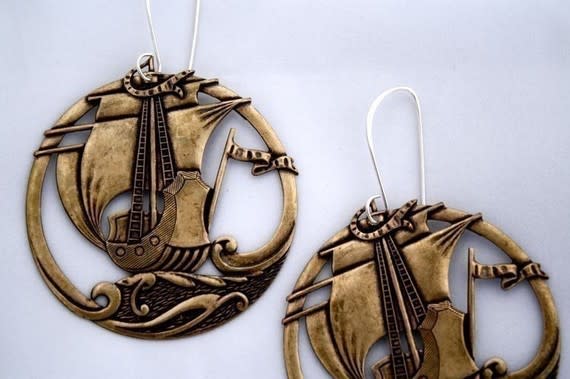 To say that I am picky might be the understatement of the year. In general, I feel the need to tip 40% just to put up with my odd requests. "Can you bring me lemon wedges on the side arranged into a smiley face? Thanks!" So when I find something that I like, I tend to stick with it for a while. Such is the case with Betsy & Iya, a jewelry line designed by Betsy Cross, which I have been following a while (you might have noticed her earrings in the November "Camel Craze" piece). Her focus is on antique hardware, colorful vintage plastics and metal pieces hung in balance amidst whirls of dripping chain and wire, all strung from her signature hand-formed sterling silver ear-wires and clasps. Depending on her vintage finds you could see earrings that look like pirate ships (yay!) or old French coins. This has already been an excellent week for accessory happenings and here is your opportunity for more. Tonight Betsy opens her own studio and is having a party. Take your bare lobes down to the new space, meet Betsy, have a cocktail, get up to 50% discounts and knock some of that Christmas shopping off your list early. Everyone loves a good pirate ship earring.
What: Betsy & Iya Studio Opening
Where: 1722 NW Raleigh St., Ste. 101; Portland, OR 97209
When: 3pm-9pm or later
Who: Betsy & Iya