Sale of the Century
Egg Press
Get stocked up on all your holiday cards at a ridiculously low price.
By
Published Monday, November 15, 2010 at 2:11pm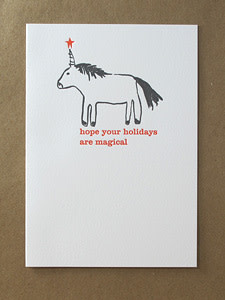 It might be because I am a writer, it might be because I am a fan of all things cute or it might be because I love knowing people took the effort to think of me, but I love cards. And I am not talking about cheesy, big scrolling fonts on a landscape kind of a card, but stylish funny awesome cards. The one drawback is it can be a bit of an expensive habit, which is why I live for the Egg Press bi-annual sample sale. Egg Press has become my go-to place for all things gift related. I would throw parties in their warehouse if I could, surrounded by letterpresses and screen printing equipment with party-goers looking at cards that elicit a chuckle or an "Awwwww." The Sample Sale is happening this Thursday thru Saturday with all hand printed cards at just $1. I never seem to walk out of there without a crate of goodies and for that price it's still reasonable.
What: Egg Press Sample Sale
When: November 18th – 20th
Thursday: 10am – 7pm
Friday: 10am – 7pm
Saturday: 10am – 2pm
Where: Egg Press Headquarters
939 SE Alder Street, #1
Portland, OR 97214
EggPress. com