Rock the Clubs
Slabtown Salute
Rockin' fundraiser brings in the bucks for a local nonprofit.
By
Published Tuesday, May 19, 2009 at 9:05am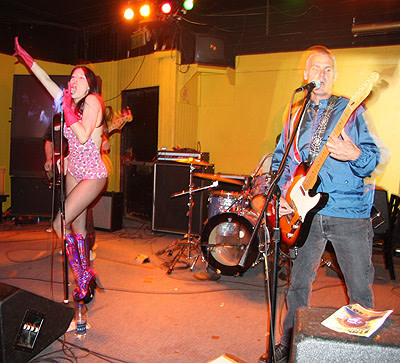 Just a quick round of applause for all the bands that played Nuggets Tribute Night at Slabtown last Saturday night. Fans of three-chord garage rock shimmied to the likes of Coco Cobra & the Killers (pictured), featuring the incomparable Viva Las Vegas, the Foxgloves, Beyond Veronica, Purple Owsley, the Strange Effects, and the Welfare State—whose version of the Paul Revere & the Raiders hit "Just Like Me" brought the house down. The event raised $1,000 for Ethos Music Center in North Portland, a nonprofit that seeks to promote music and music-based education for youth in underserved communities. Organizer Sam Soule and the staff at Slabtown also deserve bear hugs for a smoothly run evening and for keeping the musicians hydrated with a veritable ocean of Pabst.